Road Trip to Maine, part 3
Friday, August 12, 2005
I woke up around 7AM and had the bike loaded and packed within an hour. After checking out of the hotel, I went and grabbed a quick breakfast and then proceeded to Street Cycles in Falmouth.

The service manager, Katie, and the parts guy, Ian, took really good care of me and had me in and out within in an hour. On top of being efficient and quick, their price for the new front tire and labor to swap cylinders on the saddle bags was a bargain; new tire, mounting, and labor for the cylinders was only $167! If you're near Portland Maine, and need work done on a BMW, Triumph, or Suzuki, you should stop by Street Cycles.

When I left Street Cycles my plan was to head into New Hampshire, grab an R, and possibly meet up with a friend of mine from Gainesville who was supposed to be camping in the area. I took US-1 north into Yarmuth for some gas, then 115 into Gray. From there I popped over to US-202 to North Windham, and then picked up US-302 which I took into New Hampshire.

Just outside of Conway I jumped onto 113/16 south bound, and stopped for lunch at a little pub called "Almost There" for a blue cheeseburger. The weekender traffic was backed up heading into Conway, but I was heading out, hopefully away from it all.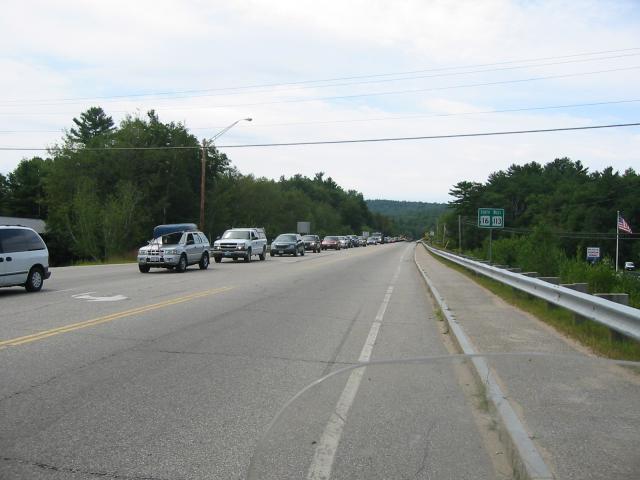 A buddy of mine and his dad were doing a weird two-stage trip while I was on the road. The first part had them in Nova Scotia, hiking and camping for a week, and then they flew back home to Gainesville. After spending 24 hours at home, they were going to fly back into New Hampshire and camp in the white mountains.
Allen and I played phone tag for much of the week while I was on Mt. Desert and he was in Nova Scotia, but while I was at lunch I finally tracked him down. It turned out that he was in Gainesville, getting ready to fly to New Hampshire; with the weekend crowd coming in, I decided not to spend an extra day just to have a beer with a guy I see almost every day at work anyway, so I proceeded to make my way out of Dodge.
From the Almost There, I took 113 south to 25. I followed 25 through a number of small towns until I made it to Rumney, NH, and picked up an R. 25 is a decent road, which is well paved in some sections, and cuts through some gorgeous scenary while making its way across New Hampshire, including a few covered bridges.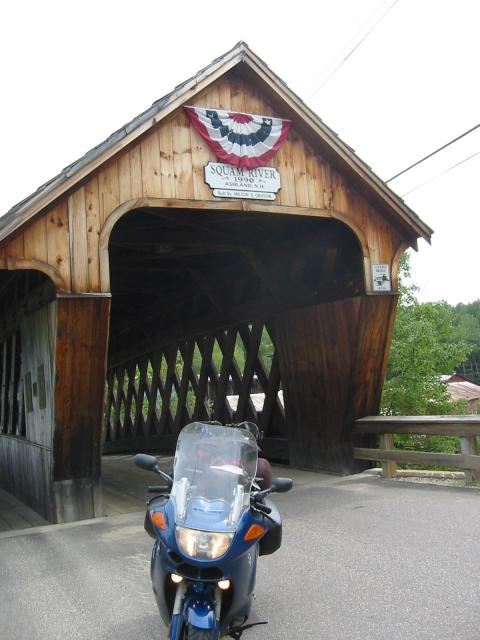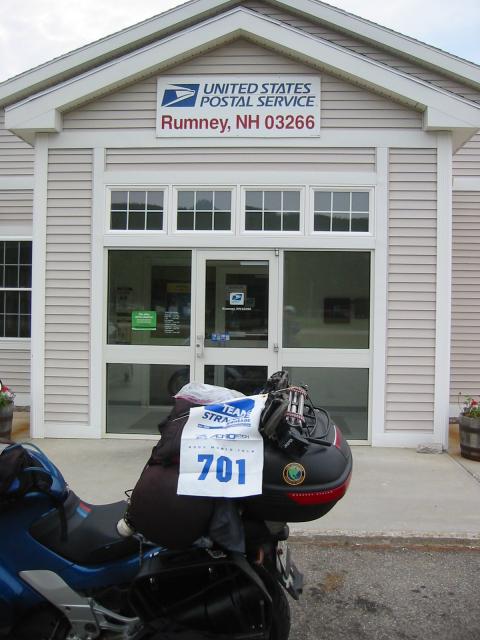 Eventually I picked up Route 25A, the Governor Meldrim Thomson Scenic Highway, which is a very fun road that runs past campgrounds with names like Lollipippicnic, which is Algonquin for "Silly White Man try to pick good Indian name for camp," on it's way to I-91 in Vermont.
Once pickup up I-91, I made my way south to Massachusetts route 116, which leads into Amherst, and hopefully the final letter of my quest. I stopped for gas and when I pulled into the pump it was $2.75 per gallon, but by the time I left, the price had gone up to $2.84.
I made my way through the town, past the University of Massachusetts campus, until I finally found the post office. Unfortunately, the post office in Amherst, at 141 N. Pleasant Street, lists neither the city or state on the exterio of the building. Not sure if a "University of Massachussets, Amherst" sign would work or not, I decided I would need to find another "A" on the way home, with the worst case scenario being a visit to "Anderson, South Carolina".
Leaving Amherst, I took 116 through the Holyoke state park. The road was a little curvy, but there was a lot of traffic with people heading back to school. Eventually I picked US-202 back up and followed that back to I-91.
I continued on 91 south to I-95 in Connecticut. The night sky started to fill with lightning the closer I got to New York. Deciding that stopping might be the better part of valor, I found a Doubletree in Darien, where for $99 I was treated to royal hospitality.
While I was unloading the bike, Noah's flood erupted around me. Stopping was the wise choice.
Mileage: 415/3284.
Saturday, August 13, 2005
Before going to bed the night before, I pulled out my atlas and started scanning for A's up and down the eastern seaboard. When I got near Atlantic City, I picked a town that looked big enough to have a post office, but small enough that it should be easy to find; Absecon, New Jersey.

I checked out of the hotel and was on the road by 7AM. My planned route followed I-95 to the Garden State Parkway, following that all the way down to the Cape May ferry. When I got to the first toll booth on the GSP, I asked the toll maid how far I was from Atlantic City.

"Oh, it's about 75 minutes from here, but being on a bike, you should be there within 30 minutes."

I guess she thought I must look like Nicky Hayden, or something.

While making my way south on the GSP, I noticed two things: 1. The heat was already in the upper 90s, 2. for no apparent reason traffic would come to a dead stop and I lost quite a bit of time.

Eventually, about two hours after hitting that first toll, I made it to exit 40 in Absecon. I stopped into a gas station and asked to borrow the phone book. Sure enough, I was able to find "US Postal Service" under U in the white pages, and I was headed off for my final A.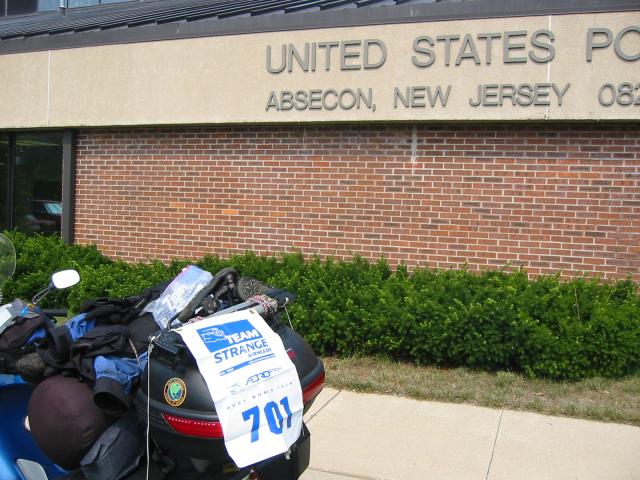 Once again discovering that left turns are verboten in New Jersey, I struggled to make my way back onto the Garden State Parkway heading southbound towards the fery.
I eventually managed to pull it off, and promptly queued up for a spot on the boat.
What is it with that state and left turns anyway??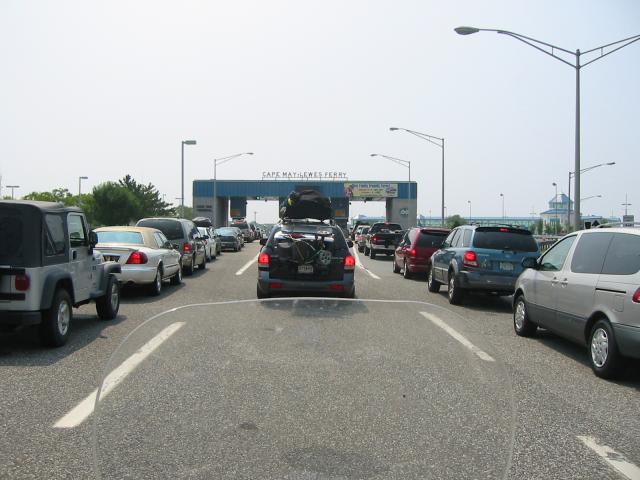 After paying my $22, I was told that because I didn't have a reservation, I wouldn't be able to leave until the 2:30 crossing. However, when it came time to board the 1:45 ferry, they managed to find enough room to squeeze me and my little bike on board.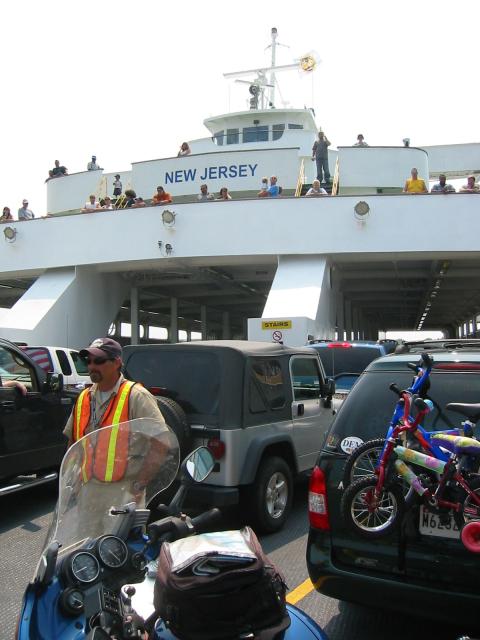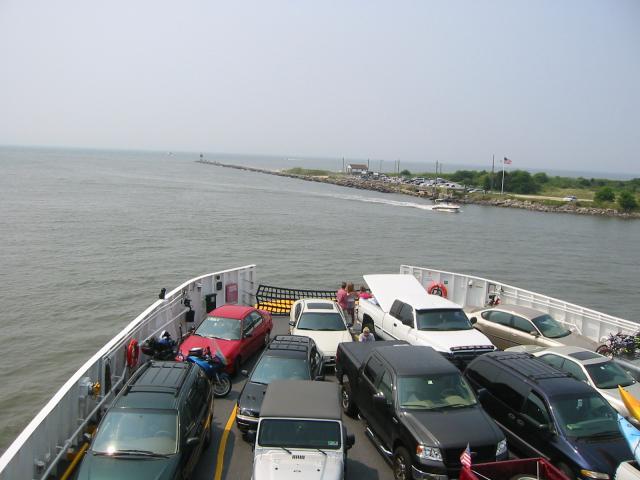 The ferry ride was mostly a non-event, for the most part I stayed next to my bike, working on my tan, finishing up Two Wheels Through Terror, and talking with one or two other people also headed to Delaware.
One of the people I chatted with mentioned that it was supposedly 101F in Atlantic City, egads when would this heat wave break?
After landing, I had one last mission to accomplish. And that was a visit to the Dogfish Head Brewery in Rehobeth Beach.
I followed 1 to 1A, into Rehobeth. Even without a GPS, or decent map, I managed to find the Dogfish Head Brewery without too much of a problem.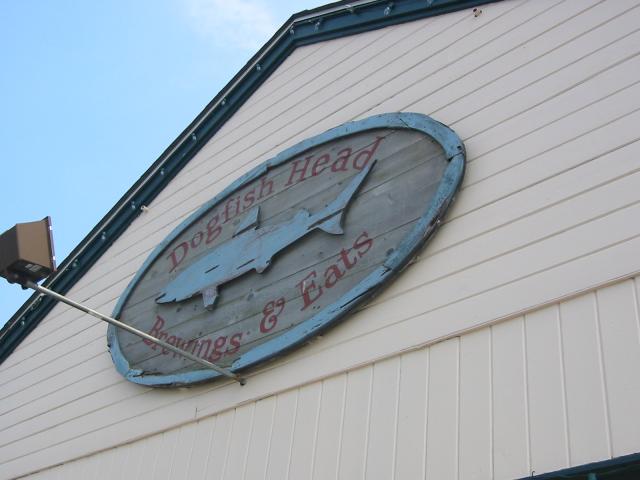 I stopped in for lunch, a MahiMahi Ceasar Salad, with a pint of the 60 Minute IPA, followed by three or four pints of ice water with lemon. I also picked up some momentos (hat, t-shirt), and then continued on my way south.
I followed 1, and the traffic, south into Bethany, and took 362 to 54. 54 was a nice little road that took me through rural farmland as it worked towards US-113. On US-113 I continued south towards the Pocomokos, where it merges with US-13.
I followed US-13 south into Maryland and Virginia, trying to make it to the Chesapeake Bridge and Tunnel before the sun set. Because the sun was starting to set, I knew it was going to be close.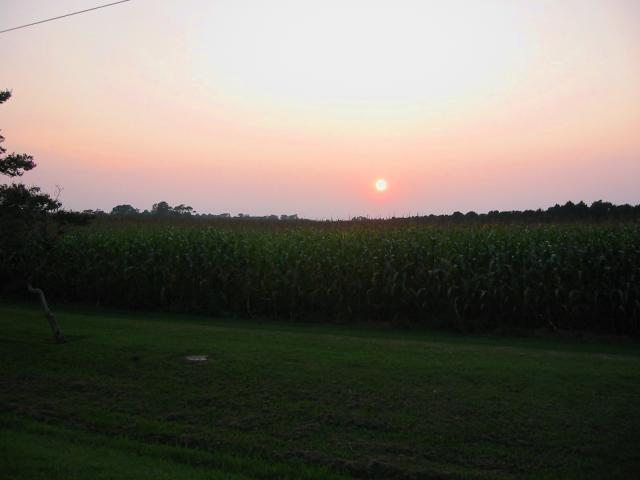 Opening the throttle up, I managed to make it to the bridge just before the sun set. I paid my $12 toll and proceeded to follow the bridge.
The Chesapeake Bridge and Tunnel spans 21 miles across the mouth where the Atlantic meets the Chesapeake Bay. It provides a direct link to Virginia Beach and the Delmarva Peninsula, and opened for operation 41 years ago in 1964. It is truly a wonder of engineering, taking the traveler both over the bay and under it.
The sun setting on the Chesapeake Bay was a gorgeous site to witness, but because there was no place to pull over, I didn't get a picture.
When I arrived in Virginia Beach, I found a room at the only hotel available, a Motel 6. It cost me as much as the Doubletree had the night before, but was nowhere near as nice.
Mileage: 385/3669
Sunday, August 14, 2005
BEEEP - BEEEP - BEEEP - BEEEP - BEEEP

Here I am, standing in the shower covered head to toe with lather, when the stupid fire alarm starts going off.

Lovely.

How would MacGyver handle this? He'd probably come up with some idea of using the lather as a fire retardant material, and storm the gates with his swiss army knife in hand.

Of course, I'm not MacGyver. Instead, I opt to rinse off real quick and run to the window to see what my neighbors were doing.

Seeing no one in the hallway, I decide to call the front desk and ask if there is a fire. The clerk, being as helpful as you can possibly hope for, told me there was no fire and that they had been having problems with the fire alarms because they hadn't been changing the batteries.

Say what?? I'm not entirely sure how I feel about staying in a hotel that doesn't properly maintain their fire alarms..

Deciding that there was nothing to worry about, I ignore the bleeting of the alarm and finish my shower.

With the excitement out of the way, I dried off, got dressed, and loaded up the bike before stopping for a nutritious meal at the local Awful House. I had a healthy meal of a pecan waffle and two eggs over medium. The wife and doctor would kill me if they knew how shot my diet had been over the past 10 days.

When I was ready to roll, I hopeed on US-13 south to US-58. While working my way around the Virginia Beach area I was surprised by how big the military and shipping complex was.

When I picked up 58, I followed it west. The section of US-58, west of Suffolk, has been the beneficiary of upgrades made to many of the older US highways over the past five years. As a result, it's a modern four lane road with smooth asphalt, bypassing most towns, with 65mph speed limits.

Having very little traffic, I made pretty good time heading towards Emporia on US-58, and proceeded on I-95 south towards Florida.

Although it warmed up as the day wore on, it never quite got as hot as yesterday in New Jersey had been, and the further south I travelled, the cooler it got. What's up with that?

With the temperatures cooling down, I was able to ride for two hours at a clip without having to stop and soak my shirt in water. This worked out to a gas stop every 150 miles, and I made pretty good time, arriving home 11 hours after I left that morning without any major incidents.

Mileage: 686/4355
Monday, August 15, 2005
Although I was home from my trip, I had one final task. That was to crawl out of bed, and grab a Highway 21 sign.

Florida Highway 21 runs through the bursting metropolis of Melrose, Florida, about 15 miles from my house. I had previously asked the TeamStrange folks if I could just ride my bicycle, but they insisted I ride a motorcycle.

Around 9:30 I left the house, rode to Melrose, and took the final photos for my Grand Tour.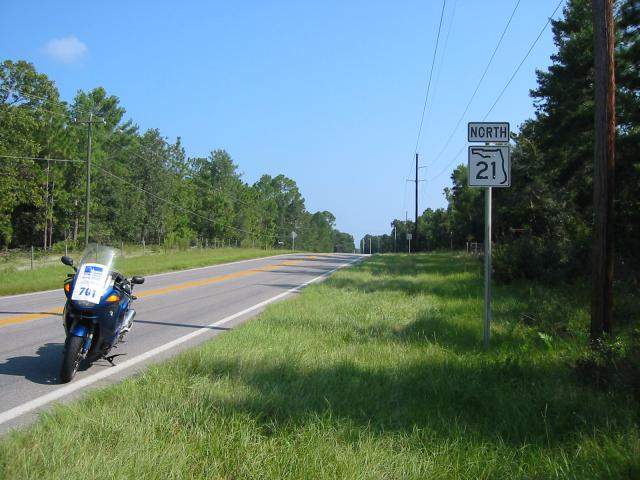 My trip was done.
Posted at: 18:04 on 21/08/2005 [ /travel ] #
---
Older articles (2018):